What Happens at Rapport Leadership?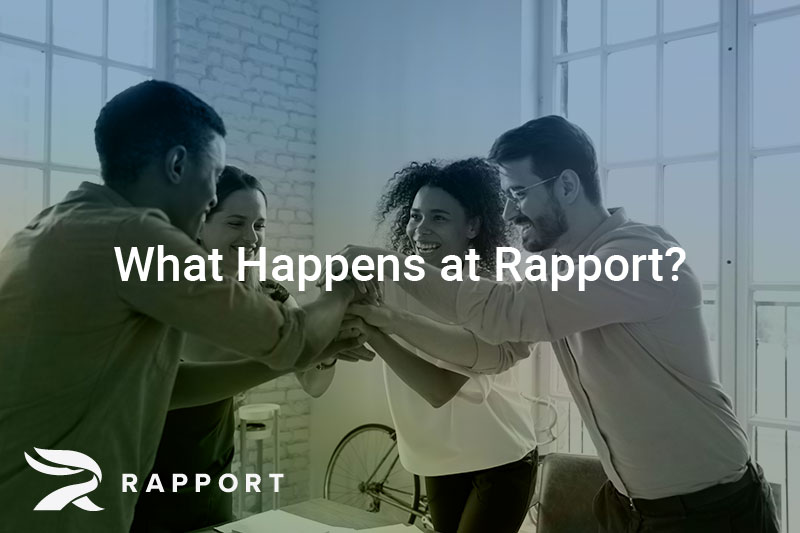 Your boss, spouse, mentor, or dear friend has just told you that they'd like you to go through a Rapport course. "It will change your life," they say. "You'll become a better version of yourself," they say. "Your career and relationships will skyrocket," they say.
Of course, that's about all they'll say. When pressed for details, all you can get out of them is, "The food is amazing... just trust the process."
How frustrated are you? No one enjoys walking into unknown situations with no preparation. In fact, you'd rather walk through a dark tunnel, barefoot, than show up at a leadership retreat unprepared.
Will you be doing anything physical? Embarrassing? Will you have to swallow a live goldfish to complete the program?
Why All the Secrecy?
In the past, Rapport has kept their training methods hush-hush so incoming participants got the full benefit of the program. After all, how do you step out of your comfort zone when the next zone has been made comfortable for you? As people are prone to doing, sponsors made up these wild tales to make participants nervous and throw them off the scent. We wouldn't be surprised if someone actually mentioned that poor little goldfish.
Unfortunately, this led to some participants entering the retreat with major anxiety and probably a few that refused to come entirely. That wasn't very helpful to anyone.
Related: Is Rapport a Cult?
The truth is that we as a company do not advocate or encourage secrecy of anything except the exact processes to be experienced. Trainers and LTAs alike tell people all the time that their experiences at Rapport are not a secret. Participants don't share much about their time at Rapport because they are concerned about giving spoilers and ruining it for the next attendee. This allows each attendee to get a different outcome based on their mindset and what kind of effort they put into the course.
We do make you one promise. No goldfish have ever been harmed (or even involved) during one of our classes.
What Happens at Rapport?
Rapport has a number of different courses that we'll cover in a moment, yet they all have one thing in common... you will have an amazing experience. Here's what you can expect when you agree to come to Rapport.
Many of our courses are held at the JFDI Retreat Center in Alamo, Nevada. When you're with us, we want you to be able to focus on the program rather than worrying about where to stay, what to eat, or how to get to class. The JDFI Retreat Center is comfortable and scenic, and it hosts a Master Chef and kitchen staff who will make sure your dietary needs are taken care of and your belly is full between sessions. Classrooms are just a few feet away, and you'll have all the basic amenities you need to enjoy your stay.
While lectures have their place, we believe that the best way to learn is by doing. Once you head into the coursework, you'll be immersed in experiential, hands-on learning. Course leaders will take you through a series of activities unlike any you've ever done before. Yes, you'll be uncomfortable. Trust us, that's a really good thing.
What to Expect from a Rapport Course
Just like everything in life, the more you put into your Rapport courses, the more you'll get out of them. You'll learn more about who you are and how you operate and figure out how to break through the walls that have been keeping you stuck in your life or business. You'll learn how to work as a team, communicate with one another, and take the time for self reflection so you reap all the benefits these courses have to offer.
Leadership Breakthrough One
Leadership Breakthrough One is an immersive 2.5-day course often held at the JFDI Retreat in Alamo, Nevada. The course is designed for attendees to step outside of their comfort zone and achieve major growth that can positively affect both their professional and personal development. Core competencies of Leadership Breakthrough One include:
Transformational leadership
Teamwork and support
Passion and enthusiasm
Rallying energy around a project
Feedback and accountability
Developing focus to achieve goals
Removing roadblocks to success
Self-confidence and unleashing potential
Leadership Breakthrough One is not just another seminar where you take notes that you'll never look at again. During the course, our Master Trainers guide attendees through immersive and intense activities to emphasize the above competencies and help attendees internalize them and apply them to real life once the training is over.
Leadership Breakthrough Two
Leadership Breakthrough Two picks up where Leadership Breakthrough One leaves off with an emphasis on team-building and teamwork. It is also primarily held at the JFDI Retreat over the course of two days. Core competencies of Leadership Breakthrough Two include:
High-performance teamwork
Team-building
Collaboration skills
Creative problem solving
Playing big
Decision-making and responsibility
Trust and respect
Note: Leadership Breakthrough One is typically treated as a prerequisite for this course.
Power Communication
Power Communication is an experiential-based training program that will change the way you interact with those around you. Through this multiple-day course, you'll learn how to more effectively engage, communicate, and build rapport with everyone you come in contact with. Core competencies of Power Communication include:
Communication skills and strategies
Identifying communication styles
Creating rapport
Listening to understand
Producing win/win outcomes
Taking responsibility for your communication
Power speaking
(This course is held across the country, so contact us to find the best time/location for you.)
What Do I Bring If I'm Going?
Another area of concern for some attendees is what to pack. Of course, you'll want to know if you need any special clothing, toiletries, or fish food flakes. The following list will give you an idea of what you will need to bring. There won't be any stores for you to pop into, so make sure you bring everything you'll need for your stay. If you take any medications, put them at the top of your packing list.
What You'll Want to Pack:
Casual dress (jeans, shorts, sweats, etc.) for the duration of the training (three days)
Professional business attire for the graduation ceremony
If you have special dietary needs or allergies, we will collect them on the medical form
A backpack or fanny pack to carry contact lenses, medication, eyeglasses, etc.
Anything else you would typically bring when staying at a hotel for a few days
If you're used to sleeping with a furry friend curled up against you, may we suggest a stuffed animal to keep you company at night. Don't worry, we won't judge.
Your sponsor may provide you with a care package that includes any incidentals you may need. They just might throw something fun in there for you as well.
We get it. The unknown is scary. It can be nerve-racking heading into a situation where you don't know anyone, you don't know what to expect, and the only advice you've been given is to "trust the process." However, stepping outside of your comfort zone, embracing your sense of adventure, and trusting that people have your best interests at heart will open you up to an amazing world of personal and professional development.
You'll thank your sponsor for the nomination and thank yourself for taking time out of your busy schedule to do something for you, and you'll have a whole new appreciation for goldfish.